Hello fellow EH majors,
Tomorrow's general meeting for the Student Environmental Health Association (SEHA) will be
in the Environmental Health Library (
F-Wing, Room F-453
) at 5:30PM.
 We'll introduce this year's SEHA board, announce ideas for meetings/parties/events this quarter, and hopefully build a stronger EH community!
We'll also watch a movie, so anyone who would like to come later is more than welcome to do so :)
For those of you who don't visit the EH library as often, here are some rough directions: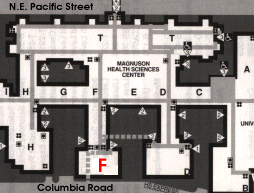 Entering from campus/the Pacific Street Bridge...
Head down the hall and make a right at the fork




Turn left and follow this second hallway to the end (F-wing)




Take the left at the fork



See you all tomorrow!
Your UW SEHA team