Hi EH Majors,
Happy Tuesday!! As some of you may have already heard, we're booking out the Environmental Health Library (F-Wing, Room F-453) for Studying with SEHA today (12/01) from 3PM - late.
Bring your homework/study materials for any ENV H or non-ENV H class and connect with some of your fellow EH majors who have probably taken the same classes before. There will be SEHA officers in the EH library starting at 3PM and until everyone's finished studying (at least 6PM).
For those of you who don't visit the EH library as often, here are some rough directions: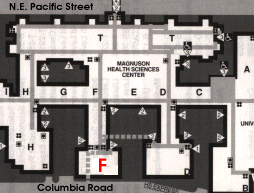 Entering from campus/the Pacific Street Bridge...
Head down the hall and make a right at the fork




Turn left and follow this second hallway to the end (F-wing)




Take the left at the fork



See you all tonight!
Your UW SEHA team